Ontario Stainless Steel Hand Wash Troughs
Ontario Stainless steel wall hung wash troughs can be manufactured in any length. Standard Trough lengths range between 600mm and 3000mm. Suitable for use in public washrooms, hospitals, schools, universities, pubs, clubs and food preparation.
Ontario stainless steel wash troughs are fabricated from 1.2mm thick grade 304 stainless steel with a brushed satin finish. Supplied with a tap-landing and a central waste, however left or right hand drains are available upon request. Suitable for use with deck-mounted taps or spouts. Ideal for between 1 & 5 users based on accepted guidelines allowing approximately 600mm per person. This range of stainless steel wash troughs is supplied with 38mm plastic waste. Stainless steel legs, loose splashback, taps, spouts and thermostic mixing valves are available as an optional extra.
(Photo shows Spouts & knee valves which are available at an extra cost)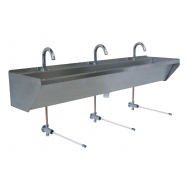 Ontario wash troughs are fabricated from 1.2mm thick grade 304 stainless steel with a brushed satin finish. Available in any length, from 600mm up to 3…
£194.00 (ex. VAT)
£232.80 (inc. VAT)
Ex Tax: £0.00
Showing 1 to 1 of 1 (1 Pages)