Stainless Steel Free Standing Hand Wash Basin
Code:

AUM 06.1
£512.20 ex. VAT
£614.64 inc. VAT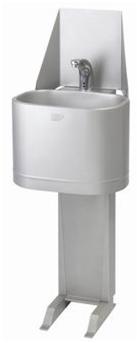 AUM 06 is a sensor-controlled stainless steel free-standing washbasin. The washbasin is equipped with stainless steel casing and a sensor-controlled outlet arm. Water turns on automatically when the user's hands are placed within the sensor's range and turns off when they have been removed. Water stops running with a certain time delay after the hands have been removed from the scanning zone.
A standard version can be equipped with cantilevers:
KR 06 - for a paper towel dispenser and a waste receptacle
KH 06 - with a hose for floor cleaning
KS 06 - for knives sanitation container
The temperature of the outgoing water for the hose can be adjusted by the thermostatic valve or mixing valve (the water temperature can not be adjusted if it is connected only to one water supply).
AUM 06 is manufactured from the stainless steel AISI 304. Other materials (e.g. AISI 316) possible on order. For cleaning we recomnned WÜRTH detergents – material preservation (no. 0893 121 K) and material cleaning (no. 893 121 1).

Version types
AUM 06 - stainless steel washbasin without tap
Washbasins supplied from source of power supply :
AUM 06.1 - for one water 12V
AUM 06.2 - for hot and cold water 12V
AUM 06.TV - with thermostatic valve 12V
AUM 06.E - with through-flow heater
Washbasins supplied from AA batteries :
AUM 06.1B - for one water 6V
AUM 06.2B - for hot and cold water 6V
AUM 06.TVB - with thermostatic valve 6V
The AUM 06 stainless steel washbasin, in its construction and finish, meets EU standards and is mainly intended for food processing industry. It may be utilized in any other operations, where increased hygienic standards along with maximal water savings are required.
Basic technical information
Radius of sensor:self-adjusting
Water inlet:G 1/2" Outlet:d = 40 mm
Inner dimension of the washbasin:370 x 240 x 150 mm
Adjustable time of water flow:0 – 4 sec. (adjusted to 1 sec.) AUM 06.1, .2, .TV
Water pressure:0,1 – 1,0 MPa
Power supply:12 V, 50 Hz, or for battery versions 6V (4 x AA battery)
Power requirement:6 VA 10 VA (AUM 06.2)
Source of power supply:ZAC 1/20 (max. 3 x AUM 06.1, .TV, max. 2 x AUM 06.2) ZAC 1/50 (max. 8 x AUM 06.1, .TV, max. 5 x AUM 06.2)
Electricity protection:IP 55
Weight:20 kg AUM 06.E
Water pressure:0,2 – 0,6 MPa
Recommended pressure:0,3 MPa (without variances and air bubbles)
Power supply:230 V, 50 Hz
Power requirement:3 500 W
Electricity protection:IP 54
Weight:21,5 kg

Requirements for setting up the construction
Set-up water inlet as per picture
Set-up outlet d = 40 mm
Set-up cable for power supply – 12 V, 50 Hz from source of power supply ZAC (does not apply to AUM 06.E)
Set-up cable CYKY 3C x 1,5 – 2,5 (for AUM 06.E)

Complete delivery
sink with support stand
outflow arm
electronics
electromagnetic valve (AUM 06.2 – 2 pcs)
corner valve with filter (AUM 06.2 and .TV – 2 pcs)
spherical valve (AUM 06.TV)
thermostatic valve (AUM 06.TV)
through-flow water heater (AUM 06.E)
source of power supply ZAC E – 12 V, 50 Hz (AUM 06.E)
waste siphon
connecting hoses
small assembly materials

Made to order
KR 06 - cantilever with towel container and bin
KH 06 - cantilever and outflow for rinsing hose
KS 06 - cantilever for ST 01 sanitation box

Figure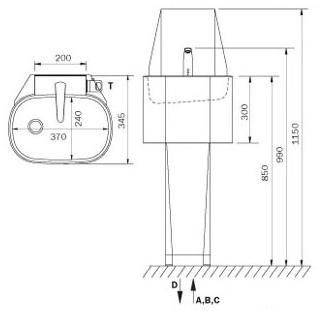 A -

cold water
mixed water
inner pipe G1/2"

D -

outlet

B -

hot water
inner pipe G1/2"

E -

zone of scaning

C -

electricity supply
Related Products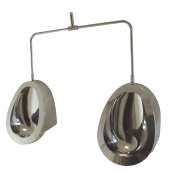 £0.00 (ex. VAT) £0.00 (inc. VAT)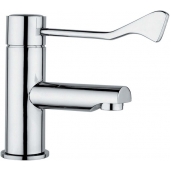 £184.46 (ex. VAT) £221.35 (inc. VAT)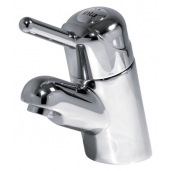 £175.36 (ex. VAT) £210.43 (inc. VAT)